UK Today News: Hurricane Earl's Projected Path Moves Towards United States, Reports National Hurricane Center in Miami
The National Hurricane center in Miami is tracking the projected path of Hurricane Earl and has stated that the Category 4 storm is moving towards the coast of the United States of American, and is expected to reach the coast by Thursday evening.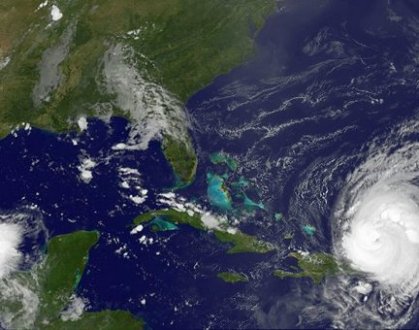 Reports state that Hurricane Earl has formed into a category 4 storm and has lashed a few of the Caribbean Islands with heavy rains. The storm has sustained wind speeds of 135 mph and is moving west northwest at 13 mph. The National Weather Service has stated that Earl is moving towards North Carolina and the people of the state have been warned that it could reach by Friday morning. It is also expected to reach 150 miles of the Jersey Shore on Friday.
Earl has become a large storm , and there are already reports that Tropical storm Fiona is slowly forming behind the dreaded Hurricane. It has sustained wind speeds of 40 mph, and is expected to just touch the northern Leeward Islands in Atlantic and then move out into the Ocean and will stay there.