UK Today News: Rafael Nadal Wins US Open Men's Final – Achieves Career Grand Slam At Age 24
Rafael Nadal has won the US Open Men's 2010 Grand Slam after thrashing Serbia's Novak Djokovic 6-4, 5-7, 6-4, 6-2 on Monday in New York City. The win helps him complete the career Grand Slam and besides, he becomes the seventh player – and the youngest ever – in the history of tennis to achieve this success.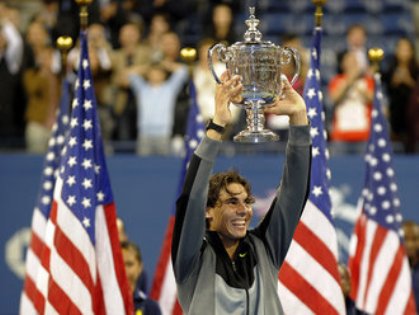 Rafael Nadal after winning the 2010 U.S. Open (Photo Credit: SportingLife)
The  US Open finals was well worth it's wait – after it got delayed due to rains on Sunday.  Nadal showed what he was made of when he lost only one set in a tiebreaker, but was extremely close to winning it . The third- seeded Djokovic demolished Roger Federer in the semi-finals, but Nadal was no match for the Serb.
Though Djokovic put up a good fight, the 24 year old Nadal was the one to take home the winning shots, and ultimately the coveted U.S Open trophy.
Rafael Nadal is a Spanish tennis player who is now ranked No. 1 in the world, and is considered as one of the best tennis players of all time.
Read more on Updated Trends