UK Today News: Jennifer Grey Dancing With The Stars Video Performance On Viennese Waltz Is Mesmorising

Jennifer Grey, who was part of one of the greatest dance movies of all time called "Dirty Dancing" along with late actor Patrick Swayze in 1987, performed on Dancing With The Stars last night. She danced with choreographer Derek Hough to the Viennese Waltz from the movie Dirty Dancing.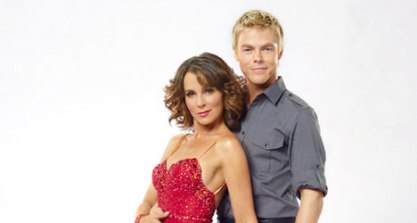 At one point while they were dancing, Jennifer Grey broke into tears as it reminded her of the late Patrick Swayze, who was her co-star in that movie. Jennifer Grey looked beautiful and she really seemed to be in great shape. Infact Derek and Jennifer looked amazing together. It's hard to believe that she is 50 years old, but both of them on Dancing With The Stars got the high score of 24/30.
Dirty Dancing was released in the year 1987 and it took her career off big time. She also co-starred with Patrick Swayze besides Dirty Dancing in a movie called "Red Dawn".
The video of Jennifer Grey on Dancing With The Stars is one moment which will surely be remembered for a long time: