UK Today News: Apple Back To The Mac Event – Ultra-thin MacBook Air, Mac OS X 10.7 Lion Expected To Be Unveiled

Back To The Mac 2010 – Apple's much awaited 2010 Back to the Mac event tonight, is expected to bring people's attention back to Apple Mac line. Reports state that there will be a possible unveiling of the new Mac OS X, Mac OS X 10.7 Lion, in addition to new MacBooks – possibly a new MacBook Air.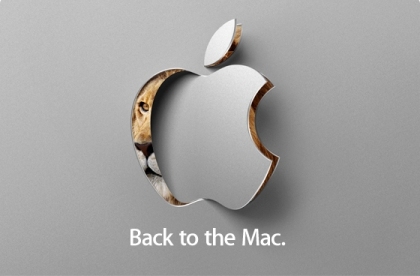 Reports state that the Apple press conference is likely to showcase the new Mac OS X 10.7, which has been given the code-name Lion, besides newer versions of iWork and iLife. Besides, Apple's MacBook Air, is likely to get a new sleeker, thinner and lighter look.
Some reports claim Steve Job's Apple could also reveal a netbook type of the MacBook Air, although, it is still an assumption as of now.
Earlier this week, Apple announced it's quarterly earnings of $20 billion.
The Apple Back To The Mac event will begin on Wednesday, 20th October 2010, at 10 AM Pacific Time (1pm Central) and 06:00PM in London.