Hector 'Macho' Camacho has been shot in Bayamon, Puerto Rice on November 20, 2012 as he was sitting in his car. The former world boxing champion is seriously injured, but is expected to survive according to doctors.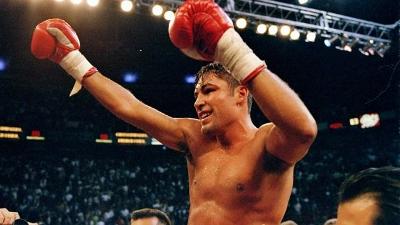 Camacho had another person in the car with him when the gunman opened fire, this person died as a result of the attack. The Centro Medico trauma centre in San Juan was where Hector was rushed and Dr. Ernesto Torres, who is the hospital director, said that the boxer is in a critical but stable condition.
Torres said that the fighters condition is extremely delicate, but his physical conditioning could help him out. The bullet struck Camacho in the jaw, before getting lodged in his right shoulder, after fracturing two vertebrae. It is possible that the troubled fighter could be paralyzed as a result of the shooting.
The 50-year-old Camacho's last title fight came in 1997 against Oscar De La Hoya, who was the welterweight champion of the world at the time, Hector lost the bout by unanimous decision. Steve Tannenbaum, who is Camacho's representative, said that there has been talk of a possible bout in 2013.
Tannenbaum went on to say that Hector is like a cat with nine lives and if anyone can pull through this situation it would be him