US tech giant Microsoft has launched its Surface tablet in the UK. Customers in the UK can now checkout the tablet live and in person. Reports say that the Windows RT-based tablet can now be found in John Lewis, which is a well known departmental store in the UK.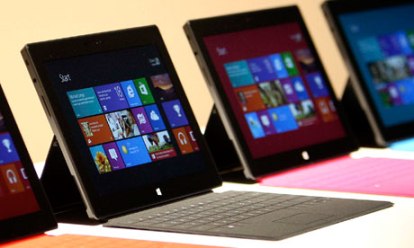 So far the Surface tablet has been available in US stores and just last week it had reached the stores of Staples and Best Buy. The tablet is also available online through Microsoft in the US, the UK, Australia, Canada, China, France, Germany and Hong Kong.
The début of the Surface device at John Lewis has marked the first time the tablet has been placed in a non-US retail store. The store is selling the 32 GB version of the Surface for 479 pounds and the 64 GB version of 559 pounds. Both the devices automatically include the Touch Cover rather than being offered as a separate option.
The device seems to be in good hands with John Lewis, as the retailer is known as a trusted name in the UK. They also have a knowledgeable staff and a good selection of products. The company has not revealed any sales figures since mid November, 2012 when Steve Ballmer, the CEO said that they were off to a modest start.