British boy-band One Direction are having a torrid time of late. First one of their singers Harry Styles received a painful blow below the belt recently, with a misdirected shoe thrown by a fan. While another Liam Payne, was at the receiving end of some flak from Boy George. Now the group has picked up the award for the Worst Band at the NME awards, which were held on February 27, 2013 at the Troxy in East London. This also marks the second consecutive year that the band has ended up at the bottom of the pile.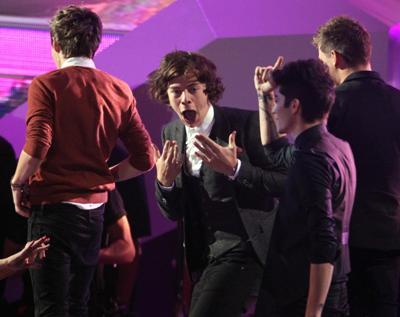 Harry Styles is having an especially bad run lately. He recently broke up with Taylor Swift and has been known to date women who are older than himself. This has probably prompted him to receive the 'Villain of the Year' award from NME.
The Killers won the the award for the Best International Band and Florence + the Machine won the award for the Best Solo Album, along with the Best Dancefloor Anthem. Legendary rock band The Rolling Stones went on to win the award for the Best Live Band, as well as the Best Music Film, even as the band stays strong 50 years into their careers.