On April 3, 2013, daily train passengers in Berlin faced a  problematic and inconvenient situation; the streets were virtually emptied and bomb disposal experts were called in to deal with an unexploded bomb that was dropped during World War II.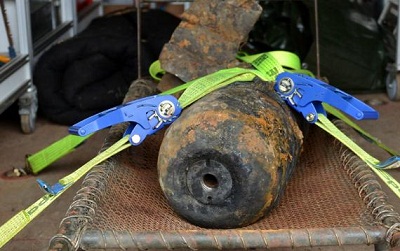 A Russian-made aerial bomb weighing 100 kilograms (220 pounds) hogged all the limelight and was found just 2 meters away from the track, which led to the city's main station. According to the sources, nearly 840 people were evacuated from the Central Berlin area before the arrival of the squad.
It took the squad around 25 minutes to carry out the intriguing task of unscrewing the mechanical fuse. One of the squad members told the CNN about the destruction that the bomb could have done had it blown. The device was found in a lightly populated street between East and West Berlin.
According to a spokesperson from the Berlin police, the squad had a tough job trying to defuse the bomb, as there was a depot for freight trains on one side and houses on the other side. The device was found on Tuesday near Hauptbahnhof, the central station. Traffic, along with the daily lives of the people, was being disrupted due to the discovery of the explosive. There are still many bombs that remain to be discovered in different German cities, which were dropped during World War II. Similar incidents occurred in 2011 in different parts of Germany as well.