The popular submarine car which was used in the James Bond movie 'The Spy Who Loved Me' is all set to be auctioned. Reports have said that the submarine car is expected to reach up to 950,000 pounds. The Lotus Esprit does not have any reserve and is said to be fully operational.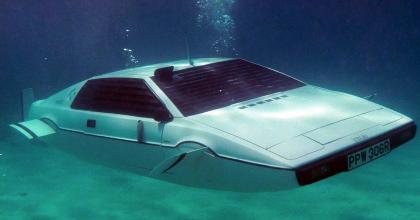 The vehicle was used in the underwater scene of the 1977 movie, which stars Roger Moore as 007. The famous car is known as Wet Nellie and is one-off car which was made specifically for the movie, but six other body shells were used during filming of the movie. Originally, the Lotus was built by Perry Oceanographic in Florida and was piloted during filming by Don Griffin, a retired US Navy Seal.
The submarine car originally costs 65,000 pounds, which is the equivalent of 330,000 pounds today. After filming of the Bond movie, it appeared in various car shows before it was shipped to New York and kept in storage. In 1989, the car was auctioned as a blind lot and was bought by its current owners. Max Girardo, the managing director of the auction house said that the Lotus was one of the most popular movie cars of all time.
Photo Credits: Digital Trends