Kolkata Knight Rider ace spinner Sunil Narine can't bowl in CLT20 final.
What will be a huge blow to the Kolkata Knight Riders, the BCCI has suspended Sunil Narine from bowling in the Oppo Champions League T20 final that will be held in Bangalore on Saturday, October 4, 2014.
The suspension comes after Narine was reported for the second time in two matches for an illegal action. According to rules by the BCCI, a player that is reported more than once, cannot bowl throughout the entire tournament until they get their action tested.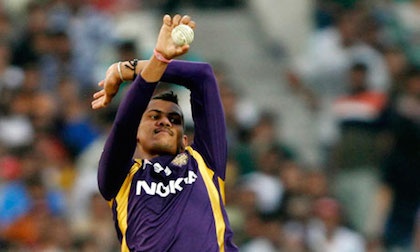 The 26-year-old West Indian off-spinner was reported for the first time by on-field umpires – Anil Chaudhary and Chettithody Shamshuddin – and third umpire Kumar Dharamsena in the match Kolkata Knight Riders played against the Durban Dolphins on September 29, 2014.
The second time, he was reported by on-field umpires – Rod Tucker and S. Ravi – along with third umpire Vineet Kulkarni. This was during the semi-final that KKR won against the Horbart Hurricanes.
The three umpires felt that Narine's action had a flex in his elbow, which was beyond the permissible limit set by the ICC. While Sunil will be allowed to play the match, he will not be allowed to bowl, which effectively defeats the purpose of him being in the team.
A statement said, "The team will be advised to send the player to the SRMC (Sri Ramachandra Medical College) for testing as per the testing protocol set by the ICC. SRMC is accredited by the ICC as a testing centre for suspected illegal bowling actions."
This suspension comes in the wake of the latest crackdown by ICC on players with suspected illegal bowling actions. ICC has been cracking the whip on players before the start of the World Cup in Australia and New Zealand in 2015. While Saeed Ajmal has already been suspended by the ICC for the same reason, there are several others who have been reported and awaiting results.