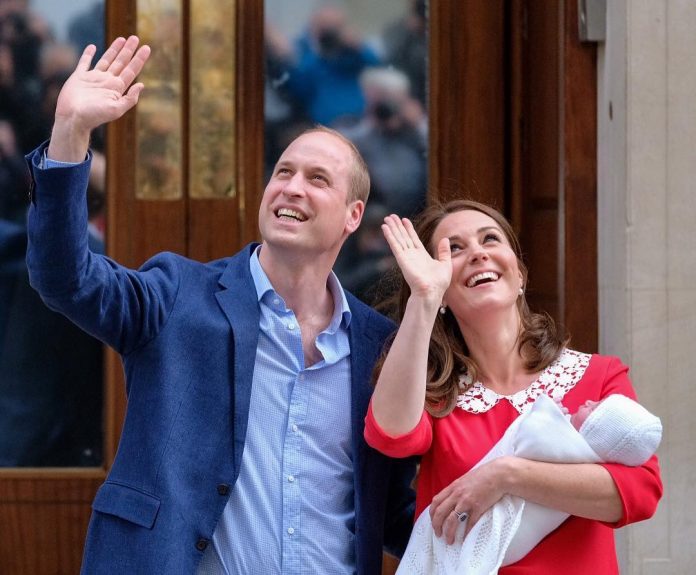 The Duchess of Cambridge, Kate Middleton gave birth to a baby boy at St. Mary's Hospital on April 23, 2018. Catherine along with Prince William introduced the latest royal member to the world outside the private Lindo Wing in the similar way they did with their first two children on April 23, 2018. Kate looked pretty as she was seen in a red outfit by Jenny Packham.
The Duchess of Cambridge gave tribute to Princess Diana of Wales who wore a similar outfit during the birth of her son Prince Harry. The baby is yet to have an official name and was introduced while he was wrapped in white sheer wrap. The royal baby was born at the St. Mary's Hospital in London at 11 am local time and weighed 8 pounds. A few minutes before 6 PM local time Catherine walked out while carrying the baby in her arms with Prince William.
The crowd along with the huge media mob waiting outside the hospital erupted with joy as the family came out. The couple then went back inside for a brief time and came out shortly while holding hands while William carried the baby in a baby car seat. The family then returned to the Kensington Palace apartment as the news helicopters followed their car. Reports say that Prince William was present for the birth as he was there for their previous two children. After the birth was announced, Prince William arrived at the hospital with his two older children Prince George and Princess Charlotte, who was all waves and smiles for the cameras outside the hospital.
36 year old Catherine arrived at the St. Mary's Hospital early on April 23, 2018. As with the earlier pregnancies of Kate, the couple did not know the gender of the baby before. As a tradition the Palace does not announce the name of the baby immediately.
Photo Credits: Instagram