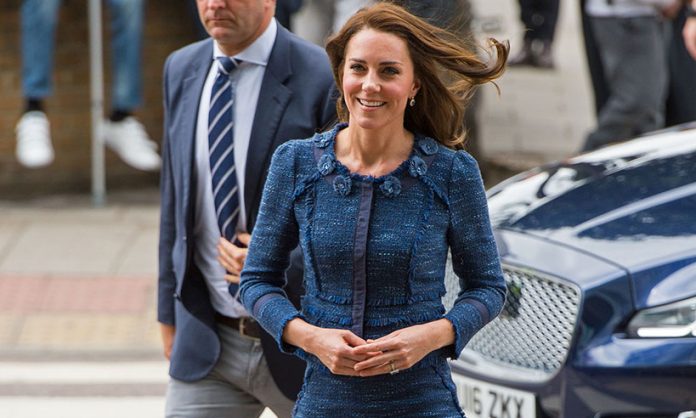 The Kensington Palace released an official statement saying that the Duchess of Cambridge , Kate Middleton has been admitted to the St. Mary's hospital on April 23, 2018. Prince William's wife Kate is due to give birth to their third child, who will be the latest member of the royal family of Britain. The couple drove from their home Kensington Palace in Central London to St. Mary's hospital located in West London.
Children George and Charlotte of the Duke and Duchess of Cambridge were also born at the same hospital. The statement from Kensington Palace said, "The Duchess of Cambridge was admitted to St. Mary's Hospital, Paddington, London, earlier this morning in the early stages of labour". Several fans have camped outside the Lindo Wing since April 21, 2018 hoping that Kate would give birth on Saturday, which was also the Queen's birthday.
Parking restrictions are in place at the hospital since April 9, 2018 and will expire on April 30, 2018. The new member of the royal family will be fifth in the line to the British Throne behind Prince George, Princess Charlotte, William and grandfather and heir Prince Charles. William's younger brother Harry will marry US actress Meghan Markle in May 2018.
Kate Middleton fulfilled her royal duty before going on a maternity leave on March 22, 2018. The Duchess of Cambridge visited the Olympic Park for a SportAid event which was followed by a Commonwealth Big Lunch and Commonwealth quiz. Queen Elizabeth celebrated her 92nd birthday, while attending a televised concert on April 21, 2018. The event had also announced that Charles would succeed her as the head of the network of the former British Colonies. The birth of Kate's third child will give Kate's family another reason to celebrate as it was reported that Kate's sister Pippa was pregnant with her first child. Bookmakers have Mary, Alice and Victoria as their favourite names if it is a girl and Albert, Arthur and Fred if it is a boy.
Photo Credits: Hello Magazine