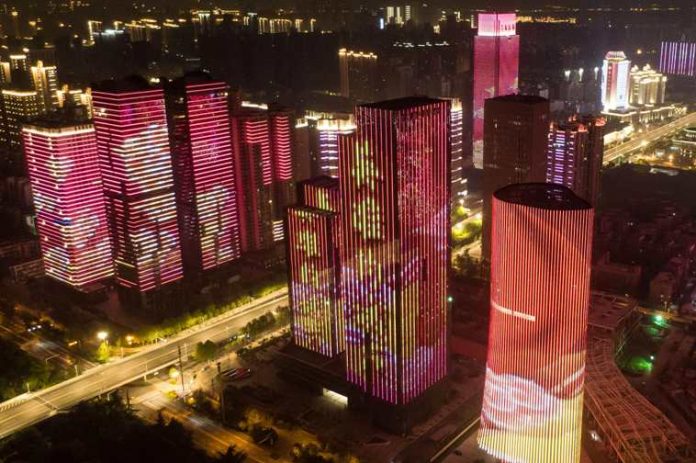 Wuhan city in China was the epicenter of the coronavirus and also suffered the most while fighting the infection and facing a 11 week lockdown. It was on April 7, 2020 when the government withdrew the lockdown and it was no less than a celebratory time for the people of Wuhan as it also marked the beginning of an exodus of people who were stuck away from their homes. To mark the celebration the city hosted a light show on some of its skyscrapers and bridges. Wuhan is the provincial capital of Hubei and the officials lifted the 76 day lockdown on Wednesday midnight.
Tong Zhengkun, a citizen of Wuhan watched the light show and expressed that he has never been inside the house like this and being at home for more than 70 days had drove him crazy. The light show also depicted the healthcare workers and was also marked with waving of flags by chanting "Wuhan lets Go!" After the lockdown was lifted, more than 65,000 people fled from Wuhan by train or flights within just hours of lifting the lockdown.
Officials in China had claimed that Wuhan had about 61 percent of the confirmed cases of coronavirus in China and 77 percent of the national death toll. But now things are a lot better in the city, since March 18, 2020 there have been just three new cases, according to the city officials. They have also identified 194 new cases which are asymptomatic and the figures were reported on April 1, 2020. However this has now sparked a new wave of infections and things could again go back to how it was.
Now that Wuhan has almost recovered, many cities across the globe are under lockdown as the virus continues to spread. Italy, America and the United Kingdom are one of the worst affected of the virus. A number of cities across the globe are under lockdown. A number of countries have also put travel restrictions.
Photo Credits: Lonely planet