The American Idol performance tonight was a dazzling one with a surprise performance from by Australian guitarist Orianthi.
For the eliminations Lacey Brown was out.
Also, the other surprise of the show was a performance by David Cook, who is an American Idol Winner from two seasons back. He did a hot rendition of the Stone's anthem Jumping Jack Flash.
Then later on, the night belonged to 25-year-old Australian guitarist Orianthi. She did an awesome performance with 'According to You'. She was electrifying with her performance.
Orianthi was also selected to be one of the guitar players for Michael Jackson's "This is it Tour" in Europe.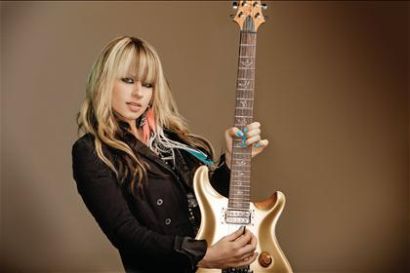 It was sad that because of Michael Jackson's death, the tour did not happen, but one can see her in the "This Is it" DVD.
This surely has done wonders to her career, she also has performed with artists like Carlos Santana and Carrie Underwood.
When she was asked about how Michael Jackson picked her as his guitarist she said,
"I don't know exactly why he picked me, but he watched my YouTube videos and loved them. He had his choice of guitar players, but I came in and played the 'Beat It' solo for him. Afterward he was so happy he got up and grabbed my arm and started walking up and down the stage area with me. He said, 'Can you play once for me?' He hired me that night. I wish he was still around. He made me believe in myself more, and I learned so much. Going into it, I thought it would be all about playing guitar solos. But the majority of it was playing chords and funky rhythms"
Recently, Orianthi played and sang at Jackson's memorial, and she also appears on "We Are the World: 25 for Haiti" video.
Catch Orianthi's American Idol performance: