Taylor Swift was the big winner at the CMA Awards (Country Music Awards) at Nashville's Sommet Center.
The "You belong to me" singer claimed the coveted "Entertainer of the Year" trophy as well as the "Female vocalist award", "Album of the year" honors for Fearless and "Video of the year" award for "Love Story."
Lady Antebellum's "I Run to You" was named single of the year while Hootie & the Blowfish's lead vocalist – Rucker- won the CMA's new artist award.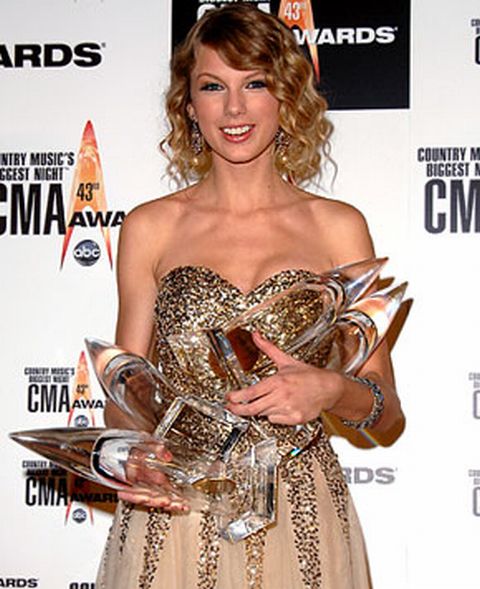 Brad Paisley, who co-hosted the awards show with Carrie Underwood, won two awards, which included  the male vocalist prize. His partnership with Keith Urban on "Start a Band" won them the Musical event of the year award.
But the artist who really made history at the CMA's was undoubtedly Taylor Swift.
Swift becomes the first woman to win the award since Shania Twain in 1999.
She said, "I just got a hug from Kris Kristofferson! I'm good!. "I hope you know how much this means to me… And I want to thank every single person in this room tonight for not running onstage during this speech."
Check out Taylor Swift at the CMAs:
Here's the list of winners from the 2009 CMA Awards:
Entertainer of the Year: Taylor Swift
Album of the Year: Fearless, Taylor Swift
Male Vocalist of the Year: Brad Paisley
Female Vocalist of the Year: Taylor Swift
Single of the Year: "I Run to You," Lady Antebellum
Song of the Year: "In Color," Jamey Johnson (w/ cowriters Lee Thomas Miller and James Otto)
Music Video of the Year: "Love Story," Taylor Swift
Vocal Group of the Year: Lady Antebellum
Vocal Duo of the Year: Sugarland
Best New Artist of the Year: Darius Rucker
Musician of the Year: Mac McAnally
Event of the Year: "Start a Band," Brad Paisley and Keith Urban
CMA 2009 winners pics: