UK Today News: 22 killed in Pakistan Plane Crash

At least 22 people are dead when a small chartered plane crashed. This plane crashed after minutes of its takeoff due to mechanical problems.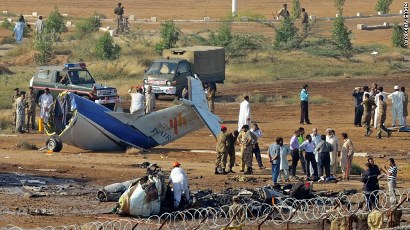 Getty Images
Lt. Col. Noor Alam confirmed that there are no survivors., He said,
"The bodies were burnt so badly, even we can't differentiate whether they are man or woman," he said. "All the bodies have become like coals."
There were 2 crew members and 22 passengers in the plane. The plane took off at 7.13 am from Karachi's Jinnah International Airport.
The pilot of the airplane realized that the plane had developed a problem and he had spoken with the control tower and was told to return back, while doing so, the plane lost control and the pilot could not control the plane that resulted into the plane crashing.