UK Today News: Andy Warhol's Coke bottle painting fetches $35 million at Sotheby's auction

A piece of art is of great value, especially if it was created by Andy Warhol; as reports state that his black and white Coca-cola bottle painting was sold for a whopping $35.36 million. It was sold at Sotheby's auction in New York on Tuesday evening.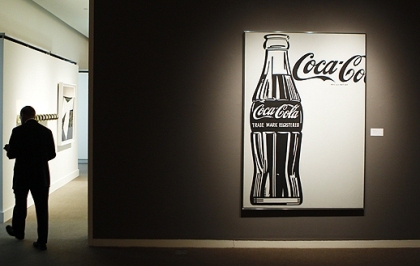 (Photo Credit: Lucas Jackson/Reuters)

According to critics, this Coke painting is a landmark of Warhol's pop art style. They say that the art piece was actually estimated at $25 million, but it surpassed it by more than 10 million.
On Monday, at the Phillips auction, Andy Warhol's multi image representation of the actress Elizabeth Taylor called a "Men in Her Life" was sold for $63.4 million. Other works of Gerhard Richter have also been the biggest business fetchers at the auction. His two works have sold for $13.23 million and $11.3 million. While, Figure in Movement of Francis Bacon fetched $ 14 million.
About 54 art pieces are said to have been sold at the Sotheby's auction that brought in total business of $around 222.4 million.