UK Today News: The deadly swine flu has claimed the lived of 14 people this winter, in the UK. According to the Health Protection Agency, 17 people have died due to influenza from the beginning of the season which started in October.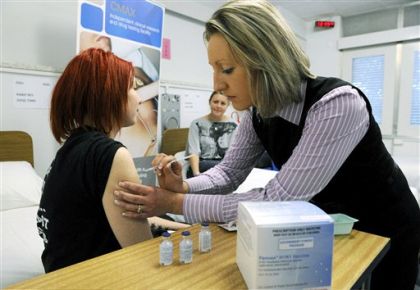 Photo Credit: (AP Photo/CSL, Michael Laurie)
A spokeswoman said that three of these deaths were the result of flu type B. She also said that these strains have now been included in the current vaccination program and has requested the prospective patients to get vaccination done as soon as possible.
The interim chief medical officer for England, Professor Dame Sally said, "Our vaccine uptake is about 2% down on last year so we're doing better than many other countries, but when young people come in – particularly with H1N1 (swine flu) to hospital – most of them don't seem to have been vaccinated."
She also said that getting vaccinated is most important to avoid serious illness and death that results from H1N1 flu virus aka swine flu. Sally has also appealed those who come under risk groups and those who are pregnant, to get themselves vaccinated. Personal hygiene needs to be maintained, and doctors are urging people to wash their hands regularly with soap and water to prevent the spread of swine flu.