UK Today News: The big freeze in Britain has begun on Friday and weather reports state that it will continue till mid-February 2011. Reports state that most parts of the Britain are expected to have eight inches of snow, following the big freeze which begins in UK today.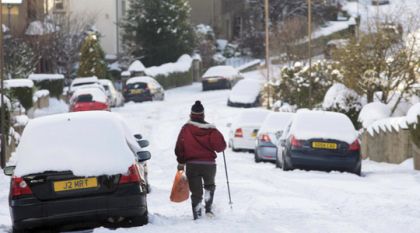 Photo: PA/Wire

The temperatures this weekend are expected to drop up to -23C, while some 10 regions are warned of severe weather conditions. As the temperature continues to drop this weekend, extreme temperatures are expected towards the south of Britain from Scotland.
A senior forecaster at the Positive Weather Solutions, Jonathan Powell said, "There will be a lull in the snow on Friday night followed by a very hard frost, so snow will freeze over by Saturday morning causing very icy driving conditions on the last Saturday before Christmas."
This time, snow fall will start from the west side, and reports state that Scotland, Northern Ireland and Wales will be the hardest hit. Last year, the snowfall started from the east side, but this time it will be the opposite. In any case, the UK is all set to have a white Christmas this winter.