UK Today News: Popular British novelist JK Rowling – who rose to fame with her  blockbuster series Harry Potter – has announced the name of her first adult novel on April 12, 2012. The new novel will be called The Casual Vacancy.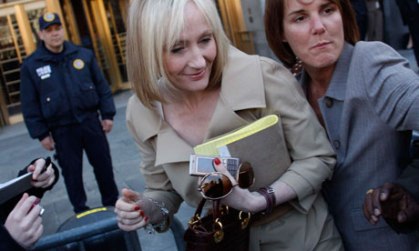 In the month of February 2012, the author revealed that she is working on a book and added that it would be very different from her previous material. The book will be launched worldwide on September 27, 2012 in hardback, audio download, e-book and CD.
While talking to reporters at the premiere of the final Harry Potter movie in the year 2011, Rowling said, "I didn't want to publish again until the last film was out". According to a synopsis on the JK Rowling's website, it states it is "behind the pretty facade is a town at war".
The upcoming book by the famous author has also been described as 'blackly comic thought provoking and constantly surprising'. The Harry Potter books gained worldwide attention and went on to win multiple awards. The book sold more than 400 million copies and became the best selling book series in history. Rowling's book became the basis for the popular series of films and approved the scripts of all the movies before it was being made.