After winning the title of the Britain's Got Talent, on May 12, 2012, Dancing dog Pudsey is on his way to Hollywood. Simon Cowell, how is delighted at the win of the dog, has vowed to make the dancing pet a huge star, after its win along with 17 year old owner Ashleigh Butler.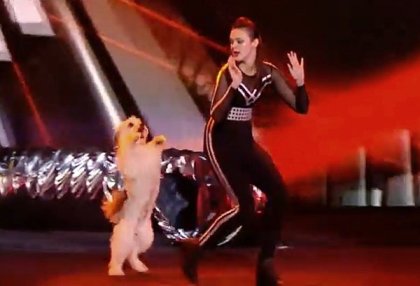 The novelty act by Pudsey became the hot favourite, while it competed against the other competitors like opera singers, Jonathan and Charlotte between emotional scenes at the live TV final. The Welsh choir Only Boys Allowed secured the third spot.
Cowell has now planned to send Pudsey to Los Angeles in his luxury jet to launch his movie career. However, the producer did not keep his promise that he made earlier that he would dance with him if he wins.
Ashleigh and Pudsey from North hampton managed to woo the judges Amanda Holden, Simon and David Williams, as they performed their routine on the theme of Mission Impossible and Simon called it sensational. Cowell also expressed that they are one of his favourite acts and that he adored both of them. William also encouraged the winners saying that the nation has fallen in love with Ashleigh and Pudsey.