The legendary motivational speaker and author Zig Ziglar passed away on November 28, 2012, at hospital in Plano, Dallas. According to his executive Laurie Magers, the speaker died of pneumonia at the age of 86, a fact confirmed by his personal assistant Jay Hellwig. The author had written more than 30 books about how to live a well balanced life and how to achieve success in their personal and professional lives.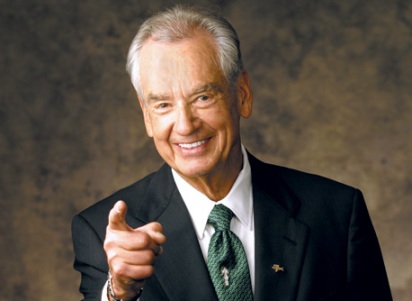 Ziglar was known around the world for his motivational quotes and many people have sworn that he has changed the way they look at life after attending one of his seminars. Hellwig said that the speaker was the same behind closed doors as he was on stage. He had become deeply religious at the age of 42 and considered that to be the turning point in his life.
Ziglar was a veteran of World War II and had worked in a string of companies as a salesman; this is where his passion for motivational speaking was cultured. His company propagates the 'Ziglar Way' and have more than a dozen speakers on board.
The motivational speaker's first book was published in 1975 when he was 49-years-old. It was entitled 'See You at the Top'. He went on to write a memorable book in 1995 called 'Confessions of a Grieving Christian', after his eldest daughter died at the age of 46.
Jean Ziglar and Zig's children Tom and Cindy are the remaining members of his immediate family. According to our sources, funeral arrangements are in progress.