Tiger Woods has reportedly been reunited with his Swedish wife Elin in an attempt to give another try to their shattered marriage. It has been reported that Elin Nordegren came to Tiger's sex-addiction clinic yesterday to take him back home to the family.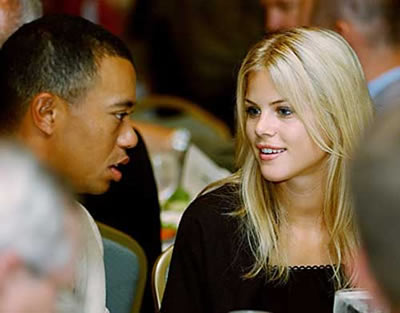 According to a source of the family: "The couple is planning to spend some time alone as they attempt to repair their marriage".
Elin flew to a the Mississippi rehab and met Tiger after which the couple walked out of the Gentle Path centre in Hattiesburg.
The world's top golfer — whose rise to fame came to crash after his innumerable affairs — is known to have spent a month at the after the sex-scandal.
Radaronline reported that Tiger had planned to meet the couple's two children, Sam and Charlie, before going to spend some private time with his wife Elin Nordegren.
It was reported that Elin hired a top divorce lawyer after Tiger's sex scandals broke lost but then decided to give the marriage a second chance for the sake of their children.
Here's wishing Tiger and Elin all the best.