The Duchess of Cambridge Kate Middleton, on December 16, 2012, made her first public appearance since it was announced that she and Prince William are expecting their first child. Middleton attended the BBC's Sports Personality of the year Awards in London.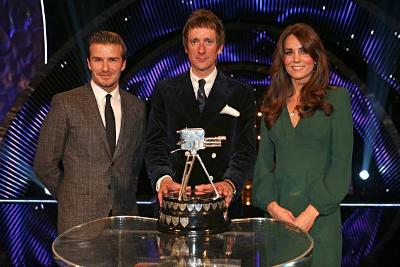 The Palace said in a statement that the Duchess attended the event in response to the long standing invitation from BBC. Kate was seen dressed in a green Alexander McQueen gown, with bell sleeves and a deep V Neck.
Middleton was seen standing besides the soccer champ David Beckham to present the British professional road and track racing cyclist Bradley Wiggins with the Sports Personality of the Year Award, but Kate was quiet while Beckham did all the talking. Kate also presented the British Politician and former athlete Seb Coe with a lifetime achievement award.
Middleton was recently being treated for acute morning sickness, just days after checking out of King Edward VII hospital. However, the Duchess did not go back to the hospital and William cancelled his appearance at the British Military Tournament on December 16, 2012, to be at her side as she recovered. After the announcement of Kate's pregnancy, she was admitted to a UK hospital for treatment for morning sickness.