The first official portrait of the Duchess of Cambridge was unveiled on January 11, 2013,  which Kate Middleton described as being 'amazing'. The official portrait was constructed by award-winning artist Paul Emsley, who created the large head and shoulders painting of the duchess, set against his trademark dark background.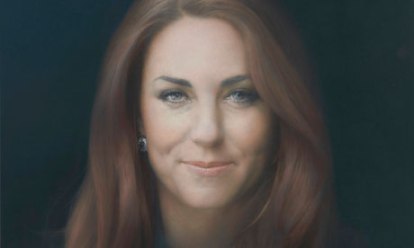 The painting has been commissioned by the National Portrait Gallery and after suggestions from Kate, it depicted the Duchess as being natural and not alike her official persona. Kate, in the portrait can be seen in a burgundy dress by Whistles. The Duchess was joined by her husband for a private viewing of the painting in the morning before it went on display.
Reports said that the Royal couple spent about ten minutes looking at the picture privately and then met Emsley along with his wife Susanne and daughter Marie. Kate said, "It's beautiful, it's absolutely beautiful." The Duke and Duchess of Cambridge also attended a private breakfast reception at the London Gallery.
The unveiling of the portrait had generated huge interest among the media. Several photographers, cameramen and artists crowded around the painting and the artist. While talking about the composition, Emsley said that it became very clear what she wanted in the discussion and that he was also very happy with the end result.