With Valentine's Day just around the corner, all lovebirds will be looking forward to the much anticipated star studded movie called Valentine's Day.
Valentine's Day is about a day in Los Angeles that creates many romantic crises.
In the movie, a florist (Ashton Kutcher) has proposed to his uninterested girlfriend (Jessica Alba), and in the meantime he discovers that his best friend's (Jennifer Garner) boyfriend (Dempsey) is actually married.
In another story, a phone-sex operator (Anne Hathaway) is scared to let her boyfriend (Grace) know what kind of job she holds. Then there's a romance-hating publicist (Jessica Biel) who is helping her client (Dane) to manage a media storm. And it also shows a story two total strangers (Roberts and Cooper) beginning a conversation on a trans-Atlantic flight.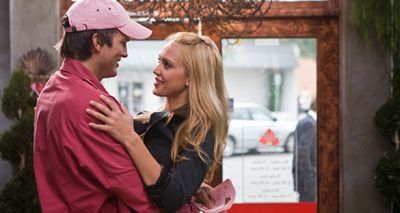 The story also includes a bunch of teens (Swift, Lautner, Roberts and Jenkins) who are dealing with related to chastity.
The Valentine's Day movie has a tight script that connects these people together in much the same way that we saw in the UK comedy "Love Actually". But there are stories that give Valentine's Day and edge over Love Actually.
The most prominent actor in this star cast is undoubtedly Ashton Kutcher who has quite a few scenes with Alba, Garner and Robinson (as a young boy with a hopeless crush). In the movie, the Hathaway-Grace story is probably the best realistic story but the ending is unexpected.
The overall performances of the other actors are good but Taylor Swift seems to be one who is easily forgettable in the film.
Valentine's Day is directed by Marshall and seems like any other predictable love story. The movie is good to watch.