There has been a severe explosion in Prague, the capital of Czech Republic, according to reports on April 29, 2013. Police have sealed Divadelni street where the incident took place and have barricaded a wider area so as to conduct investigations. People were evacuated from the nearby buildings as a rescue measure. It had been estimated that about 40 people were injured and 4 of them seriously injured, with some being buried under the debris. The incident occurred around 10 am and is likely to have been caused by a gas explosion, according to a police spokesman.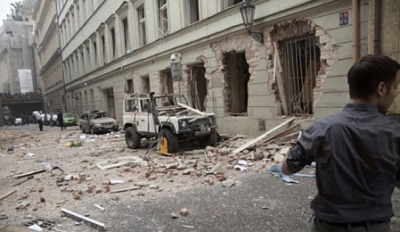 A rescue team is carrying on with their operation. Some foreigners were injured and others were led to stand in the corner of the road, with their luggage as they couldn't reach their hotel due to roadblocks. Injured people were being taken to hospitals and the ones hit by flying glass were treated on the spot. Sniffer dogs were brought to the scene, but around 2-3 people still went missing.
The explosion even impacted buildings that were hundreds of meters away and shattered the glass of a national museum that was closeby. The Prime minister, Petr Necas had expressed his grief over the incident. It remains to be seen whether the event was a planned occurrence or whether it was unavoidable.