It was on Monday night, May 6, 2013 when Paolo Di Canio's Sunderland took on Tony Pulis's Stoke City at the Stadium of Light. Di Canio's men really looked down the barrel after their last week's humiliating loss to Aston Villa. For Sunderland, every game from then onwards is pretty crucial if they wish to stay in the Premier League.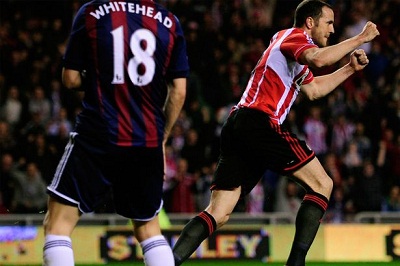 The stage was set for the Sunderland players to rediscover themselves and that's exactly what they did playing against Stoke City. Di Canio's team made a spirited comeback in the second half when they were a man and a goal down to equalize through John O'Shea and in the process earned a hard-fought draw.
Those 10 hungry men got tremendous amount of backing from the supporters. These are the crucial moments in the BPL season which could decide the fate of the clubs. A defeat over here could have pushed Sunderland into the relegation zone. A draw helps Sunderland to rise above Newcastle and Norwich on 15th spot based on goal difference. Di Canio only delivered an inspirational speech during the half time break and it really worked. The credit for this tailor-made performance goes to captain John O'Shea, left back Danny Rose and last but not the least, their head coach Paolo Di Canio.