Prince Harry is back in the US for a week, with a busy schedule that includes promoting Britain, raising money for charity and cheering up wounded veterans. This is his first trip to the States after he got embroiled in the naked photo controversy in Las Vegas. The 28-year old heir to the royal throne was at his charming best as he appeared at the White House tea party to meet First Lady Michelle Obama.  Guests, including dozens of mothers, grandmothers and children couldn't hide their excitement when Prince Harry entered the room.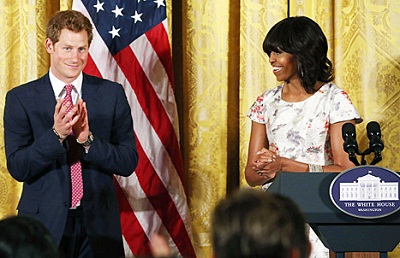 The White House party was co-hosted by Second Lady Jill Biden. The Prince smiled shyly and blushed as the kids and women cheered and clapped. After the tea party, Harry attended a glittering reception and dinner party at the British Embassy where major American VIPs were present.
Upon arriving at the Dulles International Airport yesterday afternoon, he first went to Capitol Hill to see an exhibit on clearing land mines along with Senator John McCain. This cause has been very close to the heart of late Princess Diana. Harry looked interested and enthusiastic while seeing the exhibit and each time the crowd waiting outside got a glimpse of the smiling Prince, air got filled with excitement and cheers.