UKTodayNews.com: The upcoming 63rd edition of the Miss World beauty pageant has announced the top 10 finalists on September 24, 2013. The top ten model challenge was witnessed at the Mangupura Hall at Bali International Convention Centre where the 2013 edition of the beauty pageant is currently underway.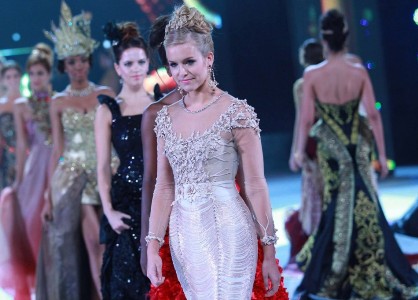 The finalists were shortlisted after a fashion show round which highlighted the designs from the Indonesia's top fashion designers. The contestants were selected on the basis of catwalk skills.
The Miss World 2013 contest began with 127 contestants as they walked the ramp in their unique and exquisite outfits which were created by 48 designers from the Elite Fashion House in Indonesia.
The top ten models were selected after the musical performance and include Miss World South Sudan Modong Manuela, Miss World Ukraine Anna Zaiachkivska, Miss World Brazil Sancler Frantz, Miss World France Marine Lorphelin, Miss World Cameroon Denise Valerie Ayena, Miss World England Kirsty Heslewood and Miss World United States Olivia Jordan.
The list of the contestants also included Miss World India Navneet Kaur, who could not make it to the list of top ten models. The 20-year-old beauty took her Facebook page and said that she gave her best shot but will be back to win the Miss World title.
Photo Credits: IB TImes