Croatia's Marin Cilic wins US Open 2104 –  first Grand Slam title.
In a 10th vs 14th seeded match at the US Open, the 14th seeded Marin Cilic came out on top. The final that was held at the Flushing Meadows, New York on September 8, 2014 saw a new champion emerge in 25-year-old Marin Cilic. The Croatian defeated his Japanese opponent, Kei Nishikori, in straight sets 6-3, 6-3, 6-3.
This is Cilic's first US Open and Grand Slam title.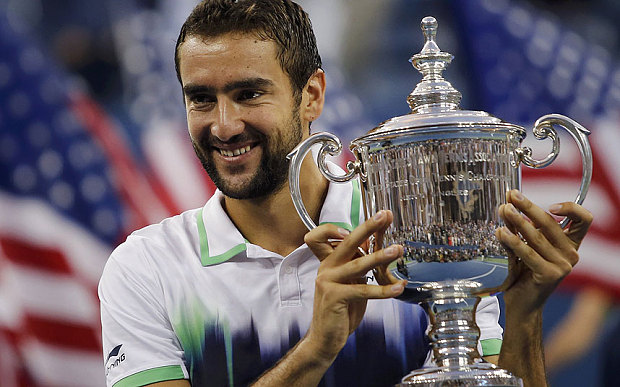 This is the first US Open since 2005 to not have either Roger Federer, Novak Djokovic or Rafael Nadal in the final. Before the final, Marin Cilic had said that he believed Stan Wawrinka's Australian Open victory "opened the door for the next generation of champions."
Marin Cilic's career has been through several highs and lows. In 2013, it looked like his tennis career was almost over when he was banned from professional tennis for drug abuse and then his sudden rise to the top after yesterday's US Open win.
The two finalists – Marin Cilic and Kei Nishikori had done all the hard work after they overcame opponents like Andy Murray, Roger Federer, Novak Djokovic and Stan Wawrinka.
Japan's Kei Nishikori was the first Asian to enter a Grand Slam final while Marin Cilic was the first Croatian to enter a Grand Slam final since his coach, Goran Ivanisovic, won the Wimbledon in 2001.
In a post match press conference, Cilic said, "Everything I was working for and dreaming came today and I feel for all those other players who are working hard this is a big sign and big hope that if you are working hard things are going to pay off."