The 82nd annual Academy Awards on Sunday night, was as amazing as the glitz and glamour of Hollywood with dazzling stars and not to forget the wonderful Oscar award and the hosts for the event – Alec Baldwin and Steve Martin.
Amidst much speculation as to who will take home the most number of Oscars, there was one movie that beat all odds to become the big winner for the night: and that movie was "The Hurt Locker" which took away six awards.
Another much anticipated award was the Best Actress award. There was tough competition between Meryl Streep ("Julie & Julia"), Gabourey Sidibe ("Precious: Based on the Novel 'Push' by Sapphire"), Carey Mulligan ("An Education") , Helen Mirren in "The Last Station", but it was finally Sandra Bullock won Best Actress for her role in "The Blindside."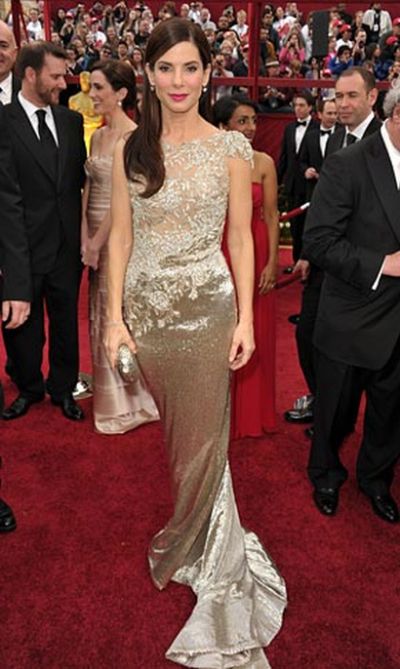 Incidentally, Sandra Bullock also won a Razzie award for her performance in "All About Steve."
Kathryn Bigelow went down in history as the first woman to win the Best Director award and her film "The Hurt Locker" won the Best Picture Award.

Here is the complete 2010 Oscar Winners List:
Best Actor: Jeff Bridges, for "Crazy Heart"
Best Actress: Sandra Bullock, for "The Blind Side"
Best Director: Kathryn Bigelow, for "The Hurt Locker"
Best Picture: "The Hurt Locker"
Best Supporting Actor: Christoph Waltz, for "Inglourious Basterds"
Best Supporting Actress: Mo'Nique, for "Precious: Based on The Novel 'Push' By Sapphire"
Best Animated Feature Film: "Up"
Best Original Song: "The Weary Kind (Theme From Crazy Heart)," music and lyric by Ryan Bingham and T Bone Burnett, for "Crazy Heart"
Best Original Screenplay: Mark Boal, for "The Hurt Locker"
Best Documentary Short: "Music By Prudence"
Best Makeup: "Star Trek"
Best Short Film (Live Action): "The New Tenants"
Best Short Film (Animated): "Logorama"
Best Adapted Screenplay: Goeffrey Fletcher, for "Precious: Based on The Novel 'Push' By Sapphire"
Best Art Direction: "Avatar"
Best Costume Design: "The Young Victoria"
Best Sound Editing: "The Hurt Locker"
Best Sound Mixing: "The Hurt Locker"
Best Cinematography: "Avatar"
Best Original Score: "Up"
Best Visual Effects: "Avatar"
Best Editing: "The Hurt Locker"
Best Foreign Film: "El Secreto de Sus Ojos"
Best Documentary Feature: "The Cove"