UK Today News: U2's Bono Undergoes Emergency Spinal Surgery – Bono Hospitalized

Bono's Injury: One of the Biggest Rock band – U2′ s singer Bono, underwent an emergency spinal surgery due to suffering from an injury while preparing for his US tour dates.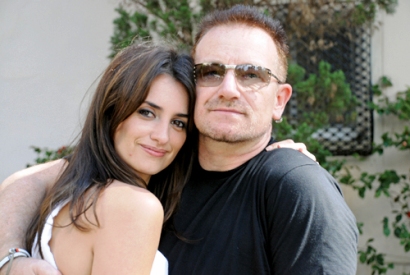 See Above Pic : Penelope Cruz & Bono

50 year old Bono was treated by a specialist neurosurgery clinic in the city of Munich and will remain under observation.
The band which was all set to perform in the US on June 3rd, will be unable to perform now and so the date has been postponed. Their Glastonbury appearance will also be a worry now due to Bono's injury.
Manger of U2 Pail McGuinness said,
"We will make plans to reinstate the dates as soon as possible."
"Unfortunate that we're inconveniencing fans" and that it was causing disruption to the band's 400-strong crew.
He went on to further say that, all future updates will be made know on U2's official website.