UK Today News: Conklin Dairy Farms Brutality Video Taken By Mercy For Animals Shows Cows Tortured
Conklin Dairy Farms, Conklin Dairy Farms Brutality Video, Mercy For Animals: Ohio's Conklin Dairy Farms is in the news, after very disturbing video footage of the cruelty meted out to the farm animals, was released online. The Conklin Dairy Farms video shows farm employees mercilessly beating and torturing cows and calves with crowbars and fists, with apparently no concern at all for the lives of the animals.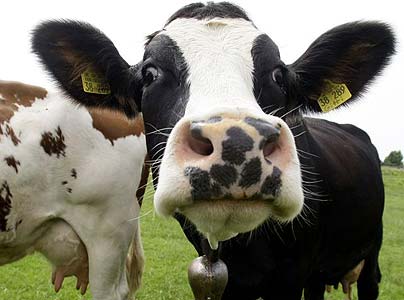 Conklin Dairy Farms' owner, Gary Conklin, is said to have released a statement condemning the violent act and has called for the immediate termination of the employees who were involved in torturing and injuring the cows.
Reports say that the video was caught on a hidden camera thanks to an investigation carried out by "Mercy For Animals", somewhere around the end of April to May 2010. The abuse was so disturbing that it shows workers repeatedly hitting cows on the head with a crowbar and even punching the faces of calves with fists.
Gary Conklin told reporters: "We intend to cooperate fully with authorities in this situation. Further, our farm will institute immediate retraining of all those who remain on the farm and who work with our animals."
The Conklin Dairy Farms has led to outrage among animal lovers and animal rights activists who call for the punishment of all the people involved in this brutality towards the animals.