UK Today News: Al Gore and Tipper Gore Divorce After 40 years of Marriage
Al Gore and Tipper Gore Divorce: Former Vice President Al Gore and his wife Tipper Gore announced on Tuesday that they have separated after 40 years in their marriage.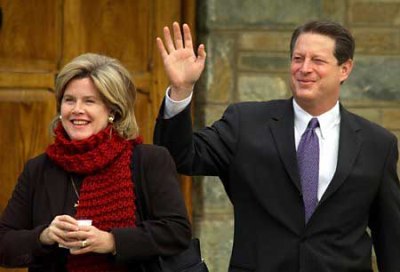 Al Gore and Tipper Gore (Photo)

Reports came in that Al Gore and Tipper Gore, the couple has taken the decision after careful consideration.
After looking at their past life, it seems that their break up didn't have any sex scandals or affairs of any sort. Their marriage life had no indication of separation at this point, and even when we go thorough Al Gore's website, he has link to Tipper photographs.
But now a question rises, whether he will remove the link after the separation. Maybe-Maybe not? And if we talk about their love life, their story goes way back to high school.
Many say as they both became so famous, it was taking a toll on their lives and hence the split.