UK Today News : The United States vs England match at the FIFA World Cup 2010 is one of the biggest games to take place at the World Cup, and fans in the USA and UK will be glued to their TV screens and cheering for their teams today, June 12th, 2010.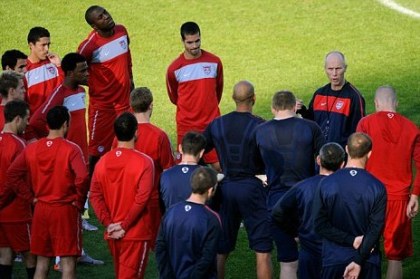 The US Football team in South Africa (Pic Courtesy: Getty)
The United States vs England kickoff time is scheduled to take place today at 2:30 PM ET (19:30 GMT) and will be broadcasted live from the Royal Bafokeng Stadium in Rustenburg, South Africa.
The USA vs England match goes back to 1950, when one of the biggest upsets took place in World Cup history when USA beat England 1-0 at the World Cup in Brazil.
Although Coach Fabio Capello's team England is a lot better and experienced compared Coach Bob Bradley's Team USA, the US team has been training really hard for the World Cup and they are set to give their all today.