UK Today News: BP Oil Spill Update – President Obama to Address Oil Spill on TV
BP Oil Spill Update: To address the nation about the oil spill in the gulf of Mexico, US President Barack Obama will make his first television address from the Oval Office on June 15.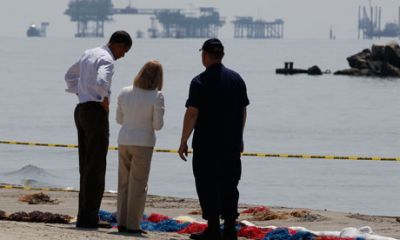 An official maintained that Obama would tell the BP representatives to compensate the business and the individuals affected by the oil spills.
On Wednesday, he will meet with BP executives at the White House to discuss the oil spill disaster and its impact to the economy and the environment.
Almost two months after British Petroleum's Deepwater Horizon oil rig exploded and sank into the Gulf of Mexico, the oil still continues to flow at a rate of almost 12,000 to 40,000 barrels per day, which is much more than the earlier estimates.
Reports say that the latest plan to stop the flow still does not provide any short-term solutions, and experts say it still will be two months before a relief well will be complete.
The residents living along the Gulf of Mexico are suffering from the impact of the worst oil spill in U.S. history