UK Today News: Obama Says BP To Pay $20 Billion As Compensation for Gulf Of Mexico Oil Spill
British Petroleum (BP) has reportedly reached a provisional agreement with President Obama and has agreed to give $20 billion in a separate account meant to compensate the business and individuals affected by the Gulf of Mexico oil spill in USA.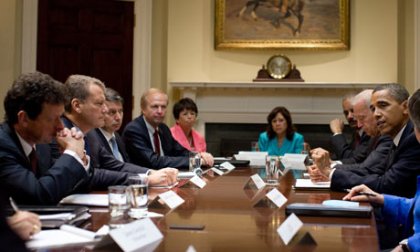 This new deal is the result of a talk between the White House and BP representatives, which took place on Wednesday. This was the first meeting with the BP executives after the oil spill, which happened on 20th April at Gulf of Mexico. The meeting was attended by BP executives, and included Chairman Carl-Henric Svanberg, U.S. BP boss Lamar McKay, CEO Tony Hayward. It took place in the West Wing of the White House just before 10 a.m. ET (1400 GMT).
This agreement to compensate for the many losses caused by the oil spill, saw the BP share trading increasing by more than 1 percent.
The compensation fund, also known as escrow fund, will be administered by Kenneth Feinberg.
Kenneth Feinberg also managed fund for victims of the September 11, 2001, attacks on twin tower .