UK Today News: Apple iPhone 4 Released – Long Waits For iPhone 4 End, Antenna Problems Reported
Apple iPhone 4: Apple's release of the new iPhone 4 saw thousands of customers queued up outside Apple Stores on Thursday across USA.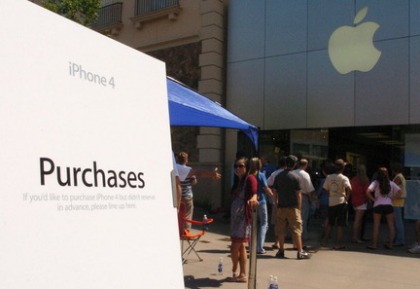 Pic: Eric Schultz / The Huntsville Times
Reports say that Apple's iPhone was sold out in stores across the U.S., including Chicago, San Francisco, Indianapolis, Los Angeles, Portland, Ore., Miami and Charlotte.
USA Today reports: 'Best Buy said it was sold out; RadioShack said it hoped to replenish its stock for the weekend. Wal-Mart said sales were "brisk" and that it is working to get more phones. "They can't get here soon enough," said Wal-Mart spokeswoman Melissa O'Brien.'
However, many reports state that the new iPhone has weakening signals if the device is held in a particular way. In addition to this tiny flaw, reports also state that many new users are facing a "yellow spot problem" on the iPhone 4. Apple has reportedly said that it is likely to go away soon.