UK Today News: Afghan Soldier Says He Acted Alone In The Killings of the UK Troops
The man who was a part of the Afghan Military troop, who is blamed to have allegedly killed three UK troops, has stated that he acted on his own, in the killings of the soldiers. The man, Talib Hussein, had reportedly contacted the BBC bureau in Kabul and said that he had not been in any sort of contacts with the Taliban before the killings.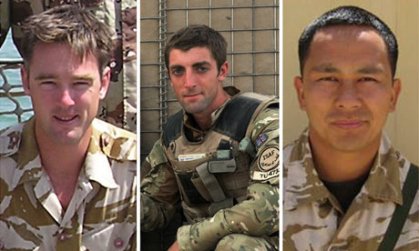 The slain UK troops (Reuters)
During the killings, there was a soldier of Indian origin, Arjun Purja Pun, who had been murdered in the killings. The reporter from Kabul stated, that he had no been in contact with the Taliban before the killings, and that shooting the soldiers was all his idea. Later after this he went and reportedly joined the Taliban.
BBC stated that they could contact the man only after Taliban contacted them. In Hussein's statement, he said that he conducted this killing because of the conduct of the soldiers towards the Afghani people, as they had killed many innocent lives when they were stationed there.