UK Today News: Philippines Earthquake 2010 – A Series Of Earthquakes Hits Southern Philippines Today

The U.S. Geological Survey has reported a series of earthquakes that have occurred in southern Philippines in the Moro Gulf on Saturday morning. The earthquakes occurred over a span of one hour. There were no tsunami warnings issued after the quake struck nor were there any reports of damage.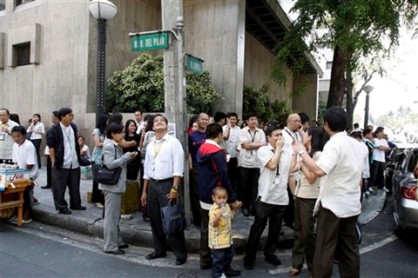 File pic
CNN reports state that out of the four earthquake tremors that were felt in the Philippines, three of them were of the magnitude 7.3 to 7.6 and the other was a relatively smaller tremor compared to the previous ones – it was of the magnitude 5.4.
The first earthquake struck at 06:08 am local time and the last and the fourth tremor struck at 07.15 am. The interesting point of the last quake, was that the quake had originated at depth of 616 kms below the Earth's surface. The epicenter of the quake was around 100 kms off the coastal city of Cotabato and 950 kms from Manila.
Philippines has been prone to earthquakes since a long time. One of the big quakes was the 1990 Luzon earthquake, which was of 7.8 magnitude and killed 1,621 people.