UK Today News: Hurricane Earl's Projected Path Is A Direct Threat To Antigua and Barbuda
Hurricane Earl's Projected Path Revealed: Tropical Storm Earl has been making it's path along the Atlantic waters, and has now formed into a full fledged Hurricane, with reports stating that this Category 2 Hurricane could turn into a Category 3  one. It is reported to have become a huge threat to Antigua and Barbuda, and the British Virgin Islands, according to the National Hurricane Center.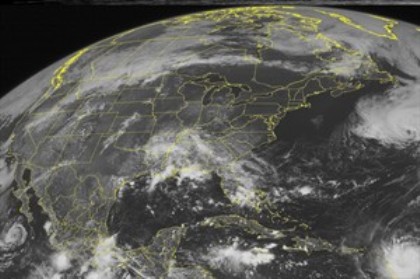 A satellite image of Hurricane Earl's projected path. (AP /Weather Underground)
Reports state that Hurricane Earl has managed to sustain wind speeds of above 100 mph. The storm system was forecast to pass somewhere near the Northern Leeward Islands by Monday, with hurricane warnings in place for the U.S. Virgin Islands and Puerto Rico, in addition to Antigua, Montserrat, Barbuda, St. Kitts, Nevis, Anguilla, St. Martin, St. Barthelemy, Saba and St. Eustatius, as reported by CNN.
The National Hurricane Center has stated that there is going to be strong developments in the storm system in the phase of  the next 24 hours. It has been predicted that Earl will turn into a very strong Hurricane by Tuesday. Heavy rain is expected to fall in the regions of Puerto Rico and Northern Leeward Islands, measuring around 3 to 6 inches.
The previously threatening Hurricane Danielle has moved away and is reported to be weakening on it's northeastward path.