UK Today News: US Open 2010 Women's Final – Kim Clijsters To Play Vera Zvonareva Today

US Open Womens Final 2010 – U.S. Open defending champion Kim Clijsters thrashed third-seeded Venus Williams to set a much awaited final with seventh seeded Russian Vera Zvonareva, at the National Tennis Center's Arthur Ashe Stadium in New York.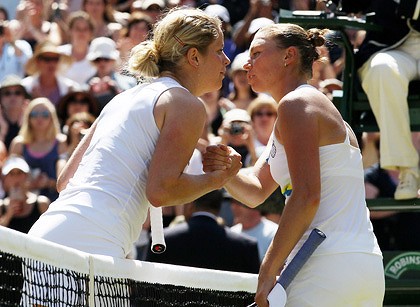 Kim Clijsters and Vera Zvonareva (Photo: Glyn Kirk/AFP)

Clijsters, the No. 2 seed from Belgium, had a thrilling semi-final match with third-seeded American Venus Williams and beat her 4-6, 7-6 (7-2), 6-4.
She won the U.S Open in 2005, and after failing to defend her title in 2006, Clijsters took a 28 month retirement break, only to return in 2009 and pick up her second U.S. Open title in 2009.
After winning the U.S. Open 2010 semi-final match against Venus Williams, Clijsters said at a press conference: "I always feel good here, so I know that if I play good tennis I can give myself an opportunity to get into that second week and play those big matches. This is where I've played some of the best tennis that I've ever played."
The 2009 U.S. Open win was a very emotional win for Clijsters since she made a comeback after a 28 month retirement period which saw her marriage to American basketball player Brian Lynch, the birth of her baby, as well as the death of her footballer father Lei Clijsters.
If Clijsters wins the 2010 U.S. Open title, this will be the third time she becomes the U.S. Open winner, and also makes her become one of the best tennis players in history much like Venus Williams, Monica Seles and Martina Navratilova.