UK Today News: Lady Gaga's Meat Dress & 8 Awards Win Creates Headlines At MTV Video Music Awards

MTV Video Music Awards 2010 – Lady Gaga was more than happy to sing in her raw meat dress at the recently held 2010 MTV Video Music Awards, after all she was nominated for 13 trophies out of which she bagged eight award that included the coveted "Video of the Year" trophy.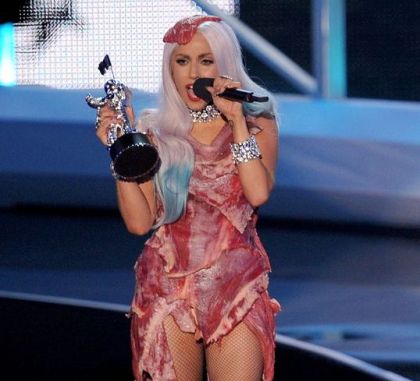 Lady Gaga in her Meat Dress at the 2010 VMA Awards ( Photo Credit: Getty Images/ Kevin Winter)
Gaga's video, 'Bad Romance' took the Video of the Year award prize. Singer Cher presented the singer with the prestigious Moonman trophy. After receiving the award, Gaga was visibly emotional and said, "I promised that if I won this tonight, I'd announce the name of my new record, and it is called Born This Way." She even sang a part of the title track of her new album. "God makes no mistakes, I'm on the right track baby. I was born this way."
The MTV Video Music Awards was hosted by Chelsea Handler who welcomed Gaga in a hilarious style by commenting on her experimentations in dressings. Gaga's meat dress was the talk of the night, with some praising her innovative style while other critics saying it was in no way impressive.