British fashion designer and former singer Victoria Beckham, posted a fun picture for her followers on the social networking site Twitter. The former singer is seen at the pilot seat of a private plane.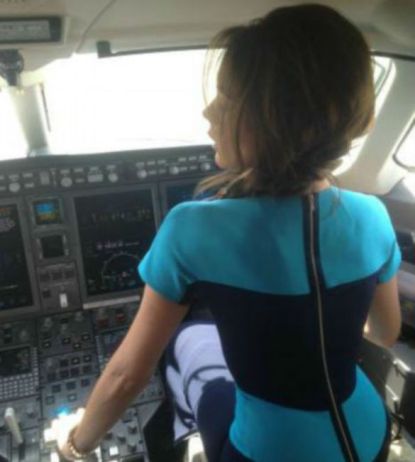 Beckham also revealed that she was not impressed by the aircraft's carpet. The stylish posted a picture of herself in a skin hugging dress in the plane's cockpit as her hand is firmly placed on the controls in tome for take off.
Victoria along with the picture posted, 'Full throttle ahead!! X vb'. A series of pictures are seen on Victoria's private plane to and from Canada so as to promote her latest designs. The designer also posted one of the airport controllers while sporting a high viz jacket and giant headphones while telling her fans 'Cleared for take off…we are coming home!'
Another picture from the fashion designer shows her looking at the floor as she is seated on one of the plane windows. She wrote, 'I'm so upset about this carpet'. The Tweets from Victoria has helped to dispel the grumpy image that she put out. However, she has many times tried to convey that she is a happy sorts.