Continuing his brilliant form, Cristiano Ronaldo sets eyes on Messi's La Liga record.
This is a dream season for Real Madrid star Cristiano Ronaldo, who now has 13 goals in 6 appearances in the La Liga. Currently holding the record for the most number of goals scored in one season of the Champions League – 17, Ronaldo looks well on his way to breaking Lionel Messi's 50-goals-in-a-season record.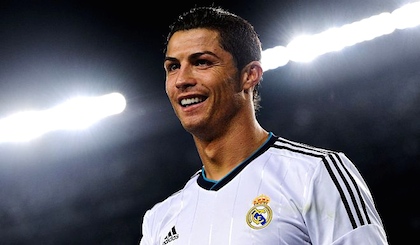 The 29-year-old Portuguese player scored a hat-trick in Real Madrid's match against Athletic Bilbao at the Real's home, Santiago Bernabeu. The current European Champions defeated a struggling Athletic Bilbao 5-0. This was Ronaldo's 22nd hat-trick in the La Liga, which equals the record held by Alfredo Di Stefano and Telmo Zarra. This number is also 3 more than what Lionel Messi has achieved so far.
Ronaldo set up Karim Benzema for a goal and then was assisted twice by Gareth Bale. This season, the trio of Karim Benzema, Gareth Bale and Cristiano Ronaldo have been formidable. The visibly happy Real coach, Carlo Ancelotti said, "The three up front played fantastically. When they are in that kind of mood they are fundamental for the team."
Incidentally, it was Ronaldo who broke Messi's 4 year winning streak of the Ballon d'Or. Lionel Messi had won the Ballon d'Or for four years straight from 2009 to 2012. In 2013, Ronaldo won the coveted title and if Carlo Ancelotti is to be believed, he will win the title in January again.