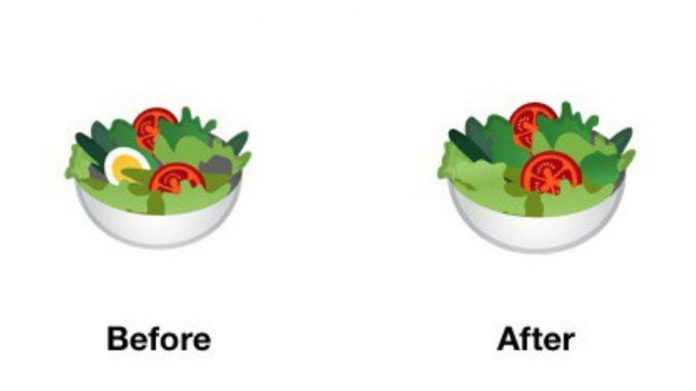 The egg producers in Britain have expressed disappointment after the boiled egg was removed from the Salad emoji of Google. The recent change was confirmed by the UX manager of Google emoji. Daniel said that the new egg-free salad is more vegan friendly and is therefore more inclusive. The changes have been applied to Android P, which is currently in beta.
Daniel had a further justification to the change and said, "Just want to clarify that the goal of salad emoji redesign was to create an image more faithful to unicode's description. "A bowl of healthy salad, containing lettuce, tomato, and other salad items such as cucumber." Bon appetite!" The British Egg Industry Council represents the British egg producers, who had expressed their disappointment over the latest change.
A spokesperson from the British Egg Information service said, "Are the people at Google cracking up? We completely understand that vegans choose not to eat eggs, but in the UK egg sales are up by almost 5 per cent and many people love them, so it seems a shame for the majority to be missing out due to concern for offending one group". The spokesperson added that eggs make the perfect salad accompaniment for people who are non-vegans as they are full of protein, minerals, vitamins and also delicious.
Talking about the emoji changes in the past, Apple removed the universal symbol for gun with a water pistol in April after which Microsoft and Google made the same changes. Tech users are more sensitive to such little subjects and often end up in creating big issues. The world has now become more complex in terms of tech and the emoji designers are trying their best to create the perfect way to express your thoughts, through the little pictures which are also known as the emojis. Even some of the remarkable and unforgettable moments become an emoji.
Photo Credits: Mashable