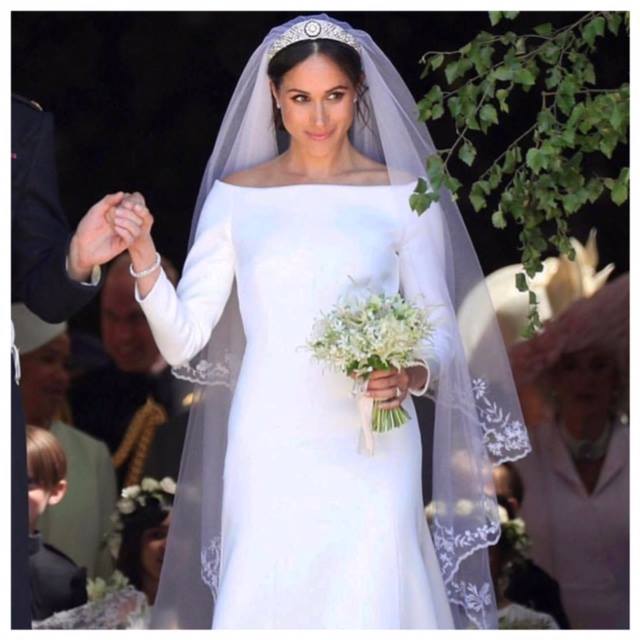 Prince Harry and Meghan Markle and their wedding at Windsor Castle was no less than a fairy tale. The entire world had an eye on the royal wedding in May, 2018 and also on Meghan's wedding gown. There are reports that the wedding gown of Meghan will be up for public display at the Windsor Castle.
The officials of the Kensington Palace are in talks to display the wedding gown that was worn by the present Duchess of Sussex which had a boat neck. If things work out, the Givenchy gown will become the centre piece of an exhibition at the popular 1,000 year old castle where Prince Harry and Meghan got married. The gown was designed by Clare Waight Keller.
If Markle gives a nod for the display, the former Hollywood actress will be following the foot steps of her sister-in-law Kate Middleton. The move is expected to attract a lot of fan fare. More than 350,000 people flocked to catch a glimpse of Duchess of Cambridge's Sarah Burton for Alexander McQueen wedding gown during the first six weeks and was displayed at the Buckingham Palace during summer 2011.
The Duchess of Sussex arrived in the pure white fitted gown with an extra long veil with floral embroidery on May 19, at St George's Chapel to marry Prince Harry. Keller the first female artistic director of the storied French fashion house favoured by Audrey Hepburn had worked closely with the bride on the design of the wedding gown. So far there is no word on whether the second slinky wedding dress of Meghan that was designed by Stella McCartney, would join the display. Meanwhile, talking about the personal life of Prince Harry and Meghan Markle, royal experts have said that Meghan and Harry will not have a full control of their kids like an average parent would. The sovereign has the legal custody of the minor children according to the royal expert Marlene Koenig.
Photo Credits: Facebook