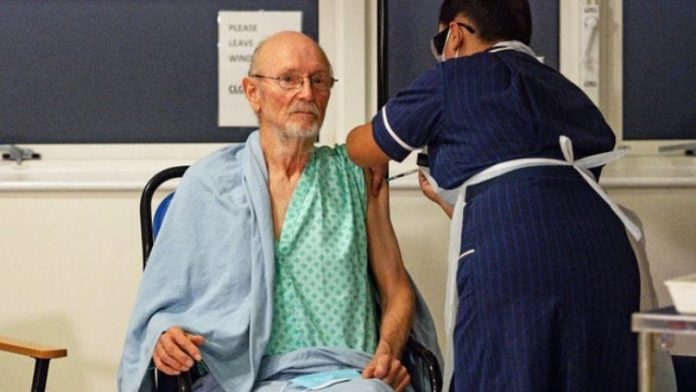 William Shakespeare was the first man in the United Kingdom and also one of the first persons in the world to get an approved COVID-19 vaccine. Shakespeare was 81 years old but passed away due to an unrelated illness on May 20 2021. The 81 year old senior citizen passed away in the same hospital in Coventry where he was vaccinated. So far the actual cause of his death is not clear.
As soon as the news about his death broke, tributes started to pour in from his close ones who fondly remembered him a much-loved person at the Coventry Labour Party. Jayne Innes, a counselor for 30 years at the Whoberley ward had worked closely with Shakespeare and revealed that he was fond of photography and loves jazz. Innes added that the 81 year old also liked to mingle with people was in love with the natural world and gardens.
Shakespeare was also known as Bill and Jayne revealed that he was a campaigner and used to find happiness while helping everyone to have the vaccine so that people could return to all the things that they could enjoy in life. Bill received his vaccine on December 8, 2021 at the University Hospital Coventry. After receiving the shot, the 81 year old was all praises for the staff of the hospital.
Bill was an in-patient at the frailty ward of the hospital when he got his vaccine. The vaccination of Bill was discussed across the globe and was also featured on the front page of The Post. Shakespeare is survived by his wife Joy and sons William and Julian. People across the globe are receiving their COVID-19 vaccinations. Health experts have warned about the third wave of the virus that could hit even harder. Due to the fear, a number of nations across the globe are running vaccination campaigns to encourage people to get vaccinated.
Photo Credits: The Hill