UK Today News: Deepwater Horizon Oil Spill Continues To Spill as BP Caps One Oil Well Leaking in the Gulf

Deepwater Horizon oil spill: The US coast guard reported that BP was successful in its attempt in capping one of the wells that is leaking in the gulf. But as per the reports, the capping of one oil well isn't going to have much effect on the spewing oil into the gulf.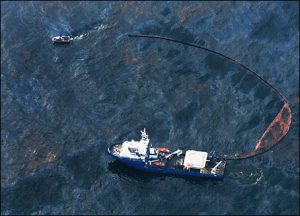 But as per the success of capping one of the oil wells, it proves two things. One, that these leaking wells can be successfully capped and second that it has narrowed BP's work of containing the disaster to a certain area.
Other plans by BP is to drop a huge dome over the drilling area that is the leaking point, which will funnel out the oil to the surface where it can be pumped by the ships successfully without creating any more damage.
Other activity that is going on in the gulf is the storm, which is affecting the process of the clean up by BP. But as the storm has gone silent for a while as it seems, BP has an opportunity to start the clean up and it looks that they are finally making progress.